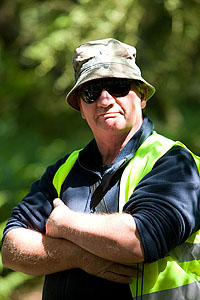 BFTA Grand Prix 2: Iceni
The Iceni was a British tribe from 2000 years ago. The
club
itself is a tad younger, having just celebrated it's 25th year, but that puts it at the dawning age of field target. Having read about Iceni in the magazines 15-20 years ago, I was really keen to visit one of the original foundations of FT in the UK.
The experience of the club showed. An army of parking marshalls, linked by radio, ushered every visitor from the gate in to right to their parking space, just by the firing line. Food, facilities, stats, sign in and the plinking range were just a few footsteps away. The whole organisation was like a well oiled machine. It was a benchmark demonstration of a field shoot, and in no small part down to the efforts of the SEFTA region members, many of whom turned up on the day just to help out.
In stark contrast to Millride the weather was kind, but i'm sure many were glad to see that the hot exposed section at the beginning quickly took you into the shaded shelter of the woods. Targets were set at a variety of angles and distances, ensuring a challenge for everyone. Whilst the wind was gentle in most parts, precise understanding was required to make the targets fall, and even then, the fishtailing breeze could leave you baffled, as it decided between each target as to when and where to bite.
Scores from the morning session piled the pressure on the afternoon shooters. Andy Gillott and Simon Ayes lead the field with 48's, and Mick Woodhead showed his son how to do it with a A class busting 47. It was mooted at one point whether this could be the first 50 shot GP to be cleared. However it wasn't all going so smoothly for many, there seemed to be a divide between those that scored well, and those that suffered in comparison to their scores. The afternoon's shooters started to wonder in which camp their scores would fall.
In the afternoon, James Osborne accepted the challenge left by Andy, and stiffened under the pressure to produce the winning score of 49, target no.2 costing him the perfect clear, but Mick's 47 held strong all day for his 1st place in A. Simon Higgins took B grade with an eye watering 45 and Dave Clark took C with a very impressive 38. Steve Lanyman put in another strong performance in SFT with 36, just a point ahead of Ian Harford. A quick calculation suggests that the Air Arms team won the day, throwing the challenge back to Walther in second, with Steyr putting in a strong 3 man performance in 3rd. Mark Fisher once again left everyone his his class and the majority of everyone else behind him in the spring gun catagory. Looking at the league, he's downed the most amount of targets of anyone so far, including the AA pcp shooters. Lets hope he doesn't get any ideas about putting that spring gun down and picking up something else, other than a Walther.
The overall title looks to be shaping up now. So far it's looking like a two way tussle between Andy Gillott and James Osborne, but with 6 GP's left to go, it's still early days.
Grand Prix 4 in two week's time will be at Newbury, which will be the final qualification for the EFTA team for Grand Prix 5 and the Home International's at Dunfermline in Scotland.
Scores are up on the
BFTA Website
, and there's a pic thread
here.