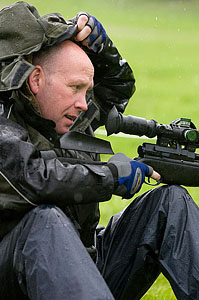 BFTA Grand Prix 2: Mullered at Millride
Last week I was applying the P20 and downing water in 25 degree sunshine. This week, just a few miles away from the ground, Rich was saying applying goose fat would be more appropriate. Upon arrival I was immediately questioning what Canon exactly meant by my camera's 'weatherproof' status.
The elements were simply cruel. The wind was at the worst direction possible. Slightly shy of staight onto the plinking range, it cut straight across the exposed field section, and funnelled down the woodland lanes, eddied around the ends and tricked many into over compensating for it's effect. What little shelter the woods offered to the breeze, the heavy rain worked into, but out in the field there was no sanctuary. Pellets weren't landing in the scope's field of view and holdover was being measured in feet. The elements were not only a test of the shooter's skill and kit, they were a test of your mental capacity. Clearly many of us are certifiable. Even the chrono tent got up to leave a few times. I certainly wished the line had blown up the range by a good 10 yards.
In the morning, James Woodhead in AA put in a 39. At lunchtime, a brief show of the sun, and a stop to the waind and rain, probably had James thinking that his lead would be destroyed in the afternoon. But after the brief lull, normal service resumed. I'm not sure if the morning's shooters were quietly relieved or indeed really quite sympathetic. Mark Fisher lead the afternoon's score with a 37, and if the elements weren't punishing enough, the fact that it was done with a recoiling springer, added that little bit extra. Mark Chartlon took A with 35, there being a 5 way tie for the score that would have seen them near the top of AA. B Grade was no less impressive with Darren Moore taking it with 29. Mark Wilson from Sywell in C grade won his home region's GP with 23, another score that some of the grades above would have been happier with. Ian Hartford, aiming into thin air, once again put in a superb SFT score of 31 for his 2nd win of the series. A quick mental calculation suggests that Walther also won their first round of the series.
For those who perhaps have somehow forgotten,
here's some pics
as a reminder. If you weren't there, sorry these pics simply don't capture the day, so perhaps the scores
here
will give an insight.