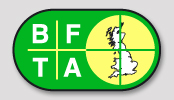 BFTA Grand Prix Series Online booking update
On line booking will go live from about 6 weeks before each of the Grand Prix shoots. The new system is very similar to last years with a few tweaks.
We will book two shoots at a time , so look out for us going live in early March as soon as the club liasons are prepared.
Only current BFTA Card holders at the start of the season will be able to book online.
If any club has any question about the online booking please email me at
Web@BFTA.net
Best wishes, Steve
Link to BFTA site