Got my Xmas present a couple of days early this lunch time in the Gary Cane Stock i ordered turned up.
Its not really seemed like that long a wait, think i ordered end of Sept and was initially told beginning of december. But, cant fault the updates as to a slight production deley and here it is.
Initial thaught as I picked it out of the packing was its heavier than i was expecting. I thaught Lamninate was light?
Hang about, I will get a stamp and write on the back all i know about stock making.
Anyway, action fitted straight in and the black Ev2 action lookes good in it. I was thinking that a Red Ev2 might suit it better? Might still end up with that before 2011 is out?
Not sure I will stick with the supplied adjusters for cheeckpiece and foreend. These are a bit big for my liking so may be looking at Knobman to make a matching pair as with the System Gemini adjusters.
Of course its too cold to go out and play so just tried it standing out the back and got no 1 son to take the pics.
Standing seems on a par with my NJr, nice and steady but only for a couple of shots. Balance seems ok, but not making a confiormed judgement until its been shot around a course.
Did a few dry fires and seems as if the trigger neeeds to come back 2-3 ml.
One thing that was noticable was with gary's suggestion about having the but hook at an angle as apposed to verticle, the system Gemini now needs adjusting. That could take weeks lol!
I half expeceted a glossy finish to it but its more lustre. I like the coulours though of Red, grey and wood!
Think a session Boxing Day is needed to see how it is in action!
Overall, I like it
White balance is off in pics 1+2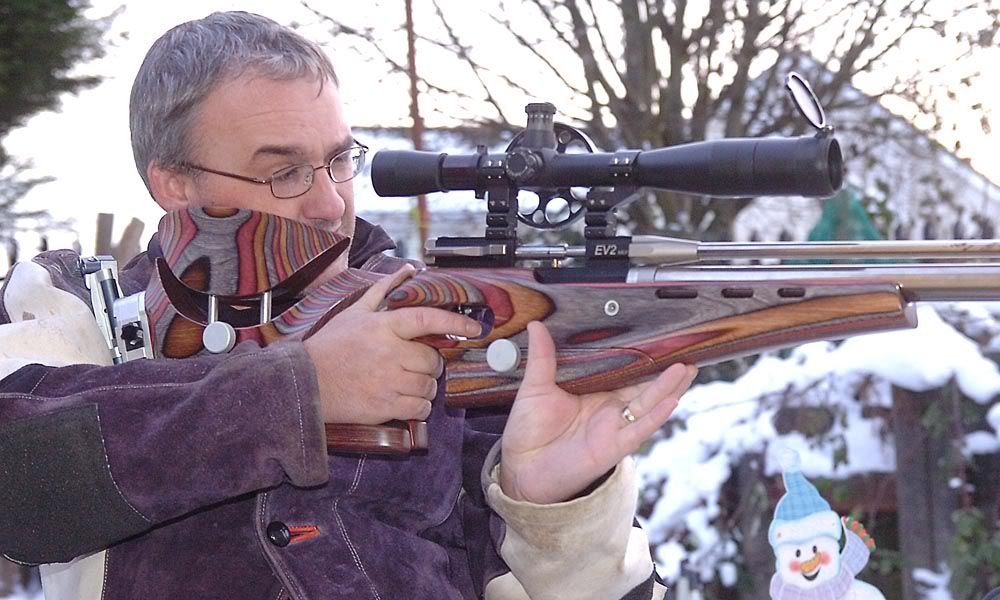 __________________
BFTA Grading Q's to;
simon.evans2@ntlworld.com
sorry wont answer Bfta q's on forums, Cant keep track of replies etc!
BFTA updates on
http://www.thebfta.net/forum/
REV26
Ostler
Ev2 & x45 comp awaiting a Gary Cane Stock!
Beast Priest
Ostler
Ev2 & x45 prem ret comp in Warren Edwards stock
If you want the best, Ostler is the man
Pump your Fish, Little or Large
MFTA visitors World championship - Arms dealer 97, Awesime 94, Acid Hands 85