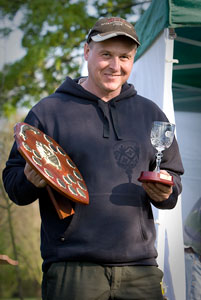 BFTA Grand Prix 1: No surrender at Harriers
The winter is over, the sun is shining, it's the start of the summer season.
Harriers FTC was the venue to kick the series off. A ground familiar to many, but with areas of the course that were new to most. However unfamiliar some parts may be, the Harriers' wind was up to it's usual character, flicking against strings and windicators to leave many bemuzed and befuddled, and what the latter session lacked in strength compared to the morning, it seemingly gained in mystery.
Andy Gillott however was having none of it. 2 points clear of his nearest rival, with only 3 shots dropped, it left the afternoon session wondering just how far away they would be. But John Costello wasn't about to let Andy have it all his own way. For most of the course he had held just one dropped shot, towards the end carrying two. I left him with a 30 and 40 yd'er to seal the win... but almost typically of the day, the wind had the last word, taking the shot clean across the kill of the longer target. To a shootoff then.
It was decided that with competitors of this calibre, sudden death positionals were the only way to stop a sunset lit shootoff. 55yds of kneeling in a stiff breeze, left little room for error. Working back from the longest, Andy cleared them all, piling the pressure on John, but sadly it wasn't to be John's day.
Ian and Martha also had a shootoff, but it would appear looking at the scores, that a 2 might have been mis-read as a 3 in the heat haze. Brian Samson just stayed clear of the fray by one point to win the SFT class.
Mark Charlton from Millride took top slot in A, Simon Higgins from Anston and Darren Moore from Far Coley did well in B with 39, and Harriers' own Dave Oakes took C grade with 35. My partner for the shoot not only out shot me, he also left all the other piston shooters way behind with a stunning 43.
I suppose somewhere we also should mention that Air Arms won the round in the constructors' league as well... but with the addition of the new Steyr team, there won't be just Walther nipping at their heels.
Scores are up
here
... and pics are
here