A quite day down the club this morning as half of tondu is on the way to Scotland for gp 4. Only about 5 cars there
So, while checking the back up gun and after saying a cheerie goodbuy to JJ, a loud crushing noise draws attenntion away from the firing line.
The result of turning my head instantly braught the thaught of "Nick Murphy is going to be servicing my NJR sooner than I had thaught"
Unfortunatley, while attempting to miss the rear of my rather cheap back up Car, JJ had not seen the case on the floor at the back of the car and this is the result.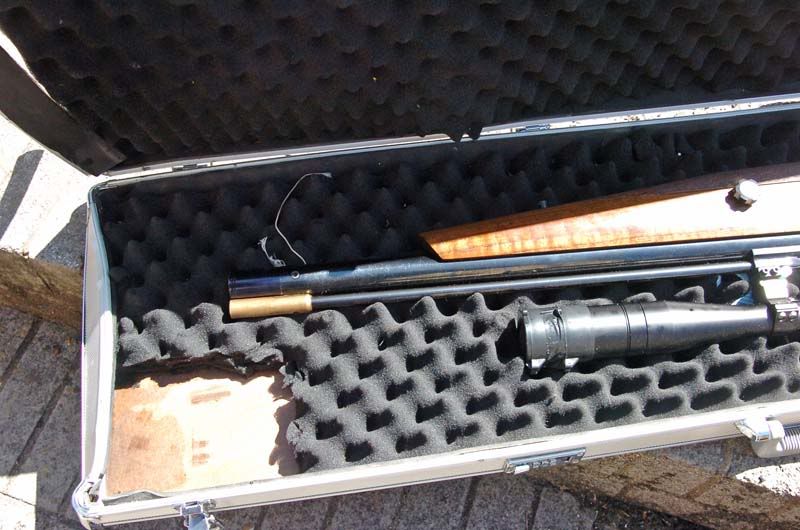 The third picture confirms my inital worries, the gun was "driven over". Luckily it was only the end of the cylinder/ barrel. Fortunatly, the gun case took all the weight and the super sponge protected the gun.
I tested the gun and its fine!
moral.
1 Throw stones at me if you see me leaving my gun cases on the floor again.
2 Dont upset JJ
3/ Always use a Hard gun case!
I stopped at South & West country sports Gun shop
http://www.southandwestcountrysports.co.uk/
on the way home and baught 2 new cases, so now thew back up gun has a hard case too. At £55 each they are very good value for money!
__________________
BFTA Grading Q's to;
simon.evans2@ntlworld.com
sorry wont answer Bfta q's on forums, Cant keep track of replies etc!
BFTA updates on
http://www.thebfta.net/forum/
REV26
Ostler
Ev2 & x45 comp awaiting a Gary Cane Stock!
Beast Priest
Ostler
Ev2 & x45 prem ret comp in Warren Edwards stock
If you want the best, Ostler is the man
Pump your Fish, Little or Large
MFTA visitors World championship - Arms dealer 97, Awesime 94, Acid Hands 85