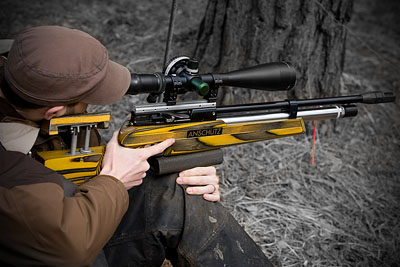 Unstoppable!: Nothing close in CSFTA
In contrast to our neighbouring MFTA region, the CSFTA region has been sewn up with one round left to shoot. Assuming Tim Goodall just turns up to his club's last leg of the CSFTA FT winter league, and hits a nominal amount of targets, it's all over. Even in the event of a disaster, he has already sealed the AA trophy.
After a series of strong performances, including two wins and two second places, Tim is sitting pretty at almost 95% average over the season to date. He's also 8 targets clear of his nearest rival (James Woodhead, currently on 90%) in the Gary Wells Trophy competition, which is awarded to the shooter with the most amount of targets hit over the season.
For the Club Team competition, North Oxon have a little more work to do in order raise Tim's trophy horde further. In order to take the title, Bisley need to be pushed down to 3rd place on the day, and North Oxon need to win, but with the next meet on North Oxon's home ground, and given their previous performances, that cannot be ruled out.
Returning to the league, Wendover have placed themselves firmly in 3rd place. North Oxon and Bisley must be fearing what place they will be in next year when they leave their HFT setups at home and start using their FT rigs!
Scores, as usual are on the
CSFTA website