CSFTA FT Winter League Rd 3 @ Christchurch: Man vs Course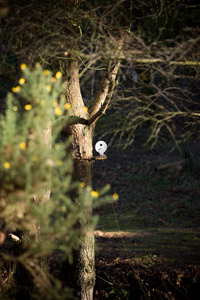 I couldn't decide. Should the course be made for the overnight conditions? Or should it be made for the lull we might get? I changed my opinion of our efforts about 3-4 times in the first hour. Was it too easy? Was it too hard?
Luckily the field was more concerned with where to stick the crosshairs than actually how far out the targets were. In, out, left or right, a kill or nothing? Oh grief, this is a 20yd target I'm wondering about! Nobody was really missing by much more than a wrong decision, but the range's infamous S shaped strings kept everyone guessing.
Several set the par at 7 off, with Bisley's James Woodhead setting the lead at 5 off, just pipped by the last shooter of the day, with 2 40yd sitters reminding that shooter who actually was in control. Bisley took the team event, with Christchurch one target behind in second, with Wendover once again taking 3rd.
A very big thanks to all that attended, helped out with building, enjoyed shooting and helped in striking the course... it makes it all so much more rewarding to see happy shooters enjoying themselves.
Special thanks to Hayley who did the stats, and Hilary and Di who did the catering, and also to the all club for allowing us to steal all the facilities for the day so we can host the shoot.
Bonus Bunny's £20 prize was won by Bisley's Tim Roscoe and the £10 won by Christchurch's Mr. Lucky,
Rangesports.com
generously did a raffle for one of their superb cushion/bean/bum bags for the 3rd prize of the day, won by the Buccaneers' Duncan Jaques.
Pics are
here
Scores are
here
Cheers
Rob