Will soon be moving premises to a much bigger shop by the end of the month. I think its going to be one of if not the biggest airgun shop in the UK so will be well worth a visit.
Also there will be a 25 yard indoor hft style course for you to try new rifles before a purchase or to zero your own in windless conditions, plus tea coffe's etc and chrono use will be avaiable too
What will be the shop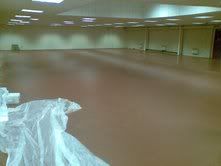 And the range, im currently making the shooting benches up and then next week me and nige will be putting the numerous targets out.