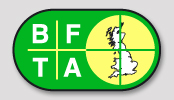 BFTA Grand Prix 8: CSFTA @ Bisley
Congrats to the Bisley and CSFTA crew for another superb GP, with special mention to the star organiser of the region, Lyndeen Calvert. Plenty of testing targets that belied their trickyness with the usual prescence of the Bisley Breeze, which once again had shooters questioning their zeroing.
The two James, Osbourne and Woodhead took advantage of slightly stiller conditions in the afternoon to raise the bar from the morning session's 3 way tie on 46, to 49. Not bad considering Mr W was borrowing Mick Kelly's Walther and Leup from the morning session, and had barely more than 20 mins play time before doing the afternoon session. A shootoff which went to standers was required to seperate the two, Mr W just dropping out of a 50+ yd target, requiriing Mr O to drop the 4th target, a 35yd reducer to take the win. Watching that was a fine demonstration of what little quarter you can give your opponent if you're after a top title.
Steve Page and Mark (Berty) Bassett dueled it out to seperate their two 47's into positions, with Steve claiming the title after a kneeler left Berty a shot behind.
Plenty of shoot-offs for the other positions, but I didn't quite catch the names... sorry.
Hard to say who the shooter of the day was, but once again, Steve Lanyman was outstanding with a 40 in SFT, making that class as tough as ever and giving him the 6th straight win in his attendances. My maths tells me that Nick Murphy has sealed the Piston class with another win, but then that is my maths...
I'm sure there will be some score up on the BFTA site soon. I didn't get the camera out, but I saw plenty there, so hopefully there will be some piccies soon.
Once again, thanks to all the Bisley and CSFTA crew that helped make this another enjoyable day, and see you at Sywell in a couple of weeks. If you haven't booked already, the PM session is full, and AM is rapidly filling up.